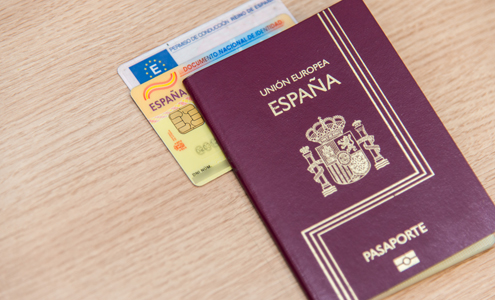 After living in Spain for some substantial amount of time  many foreigners start thinking about getting Spanish citizenship. Lets see what advantages does acquiring Spanish citizenship have.
If you bought a property in Spain with the purpose of moving to this country, obviously you would want  to have the sane rights and privileges that Spaniards have. Becoming a Spanish citizen you get a DNI- which is basically Spanish for ID, passport for traveling abroad,  right to vote at the elections, work permit in Spain or any other country of the EU. Also you wont need to renovated residence card every few years or get visa for many European countries. Another great advantage is better mortgage conditions for Spanish citizens in Spanish banks.
  Acquiring Spanish Citizenship
Here are categories of people who can get Spanish citizenship automatically
children whose parents have Spanish citizenship
children born in Spain, whose one or both parents are  Spanish citizens
children born in Spain whose parents are unknown
children adopted by Spanish citizens
children of foreign citizens without nationality
All the rest of Spanish residents need to apply personally to the according Spanish institution. By Spanish legislation anyone who lived in Spain for 10 years and has necessary documentation to confirm it  have right to apply for Spanish citizenship.
Citizens of Portugal, Andorra, Islands of the Philippines as well as Latin America countries have privileges when it comes to applying for Spanish citizenship and can apply after 1 year living legally in Spain  and after 5 years for refugees. If someone marries a Spanish citizen he or she can apply for Spanish passport after 1 year of marriage.
Documents for applying for Spanish citizenship
original document and copy of the Spanish residence with work permission
original document and copy of applicants original passport
original document and copy of your salary extracts for the last 3 months or any other document confirming  your income
original document and copy of the last tax declaration or if its the case confirmation that you are not subjected to declaring your income
respective extracts from Social Security
criminal record from applicant's native country and any other country where applicant lived more than 6 months, translated into Spanish with Apostille
city registration (certificado de empadronamiento)
Birth certificate translated into Spanish with Apostille
Waiting time for the answer on your application may be till 2 years.
Dual citizenship in Spain
Citizens of Portugal, Andorra, Islands of the Philippines as well as Latin America countries have privilege of maintaining their original citizenship as well as Spanish citizenship. Most of the  other foreigners are obliged to renounce their previous citizenship before accepting the Spanish one
Spanish citizenship for a child
Children of foreigners who reside legally in Spain can apply for Spanish citizenship after 1 year. This procedure starts  at the clinic,  where parents receive birth certificate. In the next 30 days parents need to present this certificate in the respective institution. In the next 60 days parents will receive children's family book (libro de familia) where they will be named as parents. If parents have this book before the child's birth, the authorities will simply put a necessary inscription in it. After 12 months parents can apply for Spanish passport for their child.